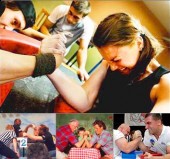 There are many different moves in arm wrestling.

The three most common are: Hook, Toproll, i Press.
Arm wrestling is really a leverage sport. These moves all create different types of leverage, helping you to beat your opponent.

Because different moves work for different individuals, it is important that you figure out which move provides you with the best leverage advantage and therefore best chance of victory.
10.03.2010.
Blogging
read entire article