Croatian national Championship 2020
Andrija Šimić won two gold medals in OPEN Class.
Croatian National Championship 2020
28th of June 2020 more then 200 Competitors will be on Croatian National Championship in the City of Sinj.
International Croatian Open Cup 2019 Križevci, Croatia
Every Year Križevci hosts International competiton which attracts more then 80 competitors
Lazarev megdan 2019 Trstenik, Srbija
World Armwrestling Champiopnship 2019
Croatian competitors won 3 medals in Romania.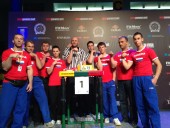 Results of Championship:
15.05.2013.
read entire article